Never On a Sunday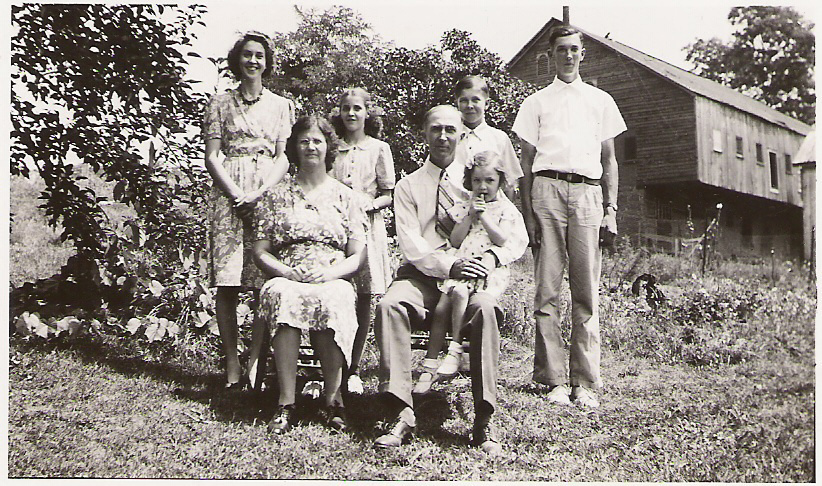 On the Sundays of my childhood, some things weren't even considered.

NEVER ON A SUNDAY

Sundays were very different from other days of the week when I was a child growing up on a farm in Central Pennsylvania during the 1940s. Other days my mother, sisters, and I cleaned, baked, and washed clothes. Never on Sundays. Other days my father and brothers worked in the fields--plowing, sowing, reaping. Never on Sundays. Other days I dressed in play clothes or dresses my mother sewed from the feedbags of grain. Never on Sundays.

Sunday mornings we worshipped at a little country church where we knew everyone and everyone knew us. Mother sat in the second to the last pew on the women's side. Father sat half way to the front on the men's side.

I was the youngest of five siblings, born "way on behind" as they say in our Pennsylvania Dutch region. As a preschooler, I cuddled on Mom's lap, stroking the fur collar of her coat as I sucked two fingers. Aunt Hannah sat next to Mom, and Cousin Hilda played the piano.

Eventually we girl cousins were allowed to join my two older sisters on the back pew—as long as we stifled our giggles. During Sunday school, all children moved to the front pew where a teacher told a Bible story and gave us a picture card.

Our church was a union church, which meant two denominations shared the building; one Sunday a Lutheran pastor preached, and the next Sunday, a Reformed pastor. My dad was Lutheran and my mother, Reformed, and everyone in our small congregation attended every Sunday. I saw little difference between the denominations other than that the Lutheran pastor smoked cigars and used theological words that matched his hefty stature.

The pastors took yearly turns conducting catechize to prepare people for church membership. My siblings and I attended the class of whichever pastor led the year we turned 12.

Sunday dresses were oh-so-special: soft rayons, lace-trimmed taffetas and embroidered organzas. Sunday outfits included Mary Jane shoes, white gloves and, of course, hats.

As a girl, I remember watching wide-eyed as my sister Marie combed out her pin-curls in front of the washbowl mirror located at the back of our kitchen. She looked sooo pretty in a pink taffeta dress with a gold chain on the belt. She also wore it for Saturday night dates.

The men of the family wore suits and ties every Sunday.

Each year we shopped for new Easter outfits and proudly wore them to celebrate the resurrection of Christ. One Easter I awoke early and began cleaning my dresser. I still remember how I blushed to learn I was "working" on a Sunday—Easter Sunday, no less.

Before we left for church, Mom popped a chicken or a beef roast into the oven for Sunday dinner. When we returned home, she mashed potatoes, cooked up a homegrown vegetable--corn, peas, beets, or carrots--and we soon sat down to eat. Of course, there were always plenty of cakes or pies made from scratch to top off the meal. Quite often, a pastor and his wife joined us.

Once dishes were washed and put away, we piled into our Model-A Ford and chugged off to visit relatives. I remember stiffly sitting on my Grandma Smith's lap in her parlor, a room used only when company called. She was frail with alabaster skin, and I didn't know her well enough to feel comfortable. So with eyes downcast, I studied the veins on the backs of her hands until I could break free.

Once my older siblings married and had children, Sundays became homecoming time at our house. During winter months we chopped ice from the creek to make homemade vanilla ice cream. The best part: topping it with homegrown strawberries from the freezer.

Now nieces and nephews roamed the farm, the barn, and the farmhouse attic looking for "treasures." They read our "little big books" and cranked a table-top organ that played tunes from wooden rolls with stiff protruding wires.

Summers, we lounged on the porch, sipped homemade root beer or mint tea, and caught up on family affairs.

Essential chores--tending the animals, feeding our family—were the only ones done on Sundays. Blue laws kept stores closed Sundays, so we could not shop. We always made sure we had everything we needed on Saturdays, and I don't ever remember being caught short.

Although "never on Sunday" limited our activities, I saw plenty of advantages to honoring those traditions. The "otherness" of Sundays gave me a great appreciation for the importance of God and family. Illness was the only reason to miss church. When Daddy once became disgruntled with our pastor, Mom, who did not drive, walked us to church across the fields.

Fellowshipping with family was just plain fun. Those Sunday visits laid the basis for good relationships with nieces and nephews that I still enjoy. Those truly were the good old days.

©Annie's. Used with permission; reprinted from Good Old Days, September/October 2013.