Book Review: The Gift of Pain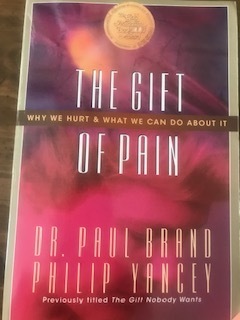 July 29, 2021
Dr. Paul Brand considers pain a gift, because, as he discovered working with leprosy patients, if the body doesn't feel pain, it can harm itself.
Part One tells the story of Brand's roundabout path into medicine after an unlikely start as a construction worker. Part Two offers glimpses into his work as a doctor, and how he discovered the most harmless stresses may cause severe damage to the body. And Part Three discusses "befriending" pain, a good read for anyone dealing with pain of any kind.
"Pain is no invading enemy, but a loyal messenger dispatched by my own body to alert me to some danger," he writes, calling pain a priceless essential gift. "And yet only by learning to master pain can we keep it from mastering us."
Breaking pain into three parts—the signal, the message and the response—Brand contrasts how people in Third World countries handle pain very differently from Americans. For instance in Micronesia and the Amazon Valley mothers take two to three hours off from work for childbirth and then go home to wait on a husband who "suffers" in bed for days afterward.
I loved Brand's stories of growing up in India, and of his "detective work" as a doctor tracing the source of injury with leprosy patients to physical abuse of the body. He also candidly tells of his personal illnesses and reactions to them.
Each chapter opens with an insightful quotation. The last chapter includes observations about pleasure and its relationship to pain. The book includes an Afterword on Leprosy and AIDS, both of which stigmatize patients. Brand also addresses "intensifiers" of pain, such as fear, anger, guilt and loneliness.
This is an interesting and helpful read for anyone. I appreciated Brand's emphasis on treating the patient as a whole person rather than simply prescribing something for an ailment. Brand is a world-renowned hand surgery and leprosy specialist, and although, coauthored with Yancey, editor-at-large of Christianity Today magazine, the book is written from Brand's perspective.